Electrify your home
Power your home your way.
You can't lose: we have home energy storage solutions for everyone and every home.
Torus Station Details & Specifications
Certifications

UL9540, UL1973, UN38.3, IEEE 1547, IEEE 2030.5, Hawaii Rule 14H, Rule 21 Phase I, II, III

Battery Capacity

10 kWh to 30 kWh, with 5 kWh increments

Smart Battery Storage

Lithium Iron Phosphate (LFP) chemistry, Cycle life of 7,500 cycles @ 0.5C, 70% DOD, 77°F, 10-year warranty

Inverter

12 kW Max DC input, 8 kW AC output (connect up to three inverters), 100A load capacity, up to four MPPTs

Torus Mobile Apps

iOS and Android

Torus Off-Grid & Emergency Backup

Seamless disconnection from grid to self-powered, Automatic transfer switch when the power goes out, User-controlled off-grid capability, Optional add-on with a Torus Station

Torus Control™ CNS

Command and control interface between hardware and cloud, Over-the-air firmware updates, Configurability for multiple hardware support – inverters, batteries, home appliances, smart panels

Solar Panels

370 to 410-watt panel, Low-profile, black-on-black design, 3.2mm AR coating tempered glass, Dimensions 69" x 41", Operating temperature -40°F – 185°F, 25-year warranty
Download Our Free Buyer's Guide
Clean energy curious? Click the link to download our free buyer's guide. Get answers to popular questions, read more about system features, and learn about incentives that can help get you on track to a more efficient home and lower power bills.
When will I see payback for my system?
How do I find the right battery for my home?
Is my home a good fit for renewable energy?
What should I know before buying?
Are there any incentives?
How long does it take to install?
How much does a solar & battery system cost?
Get Buyers Guide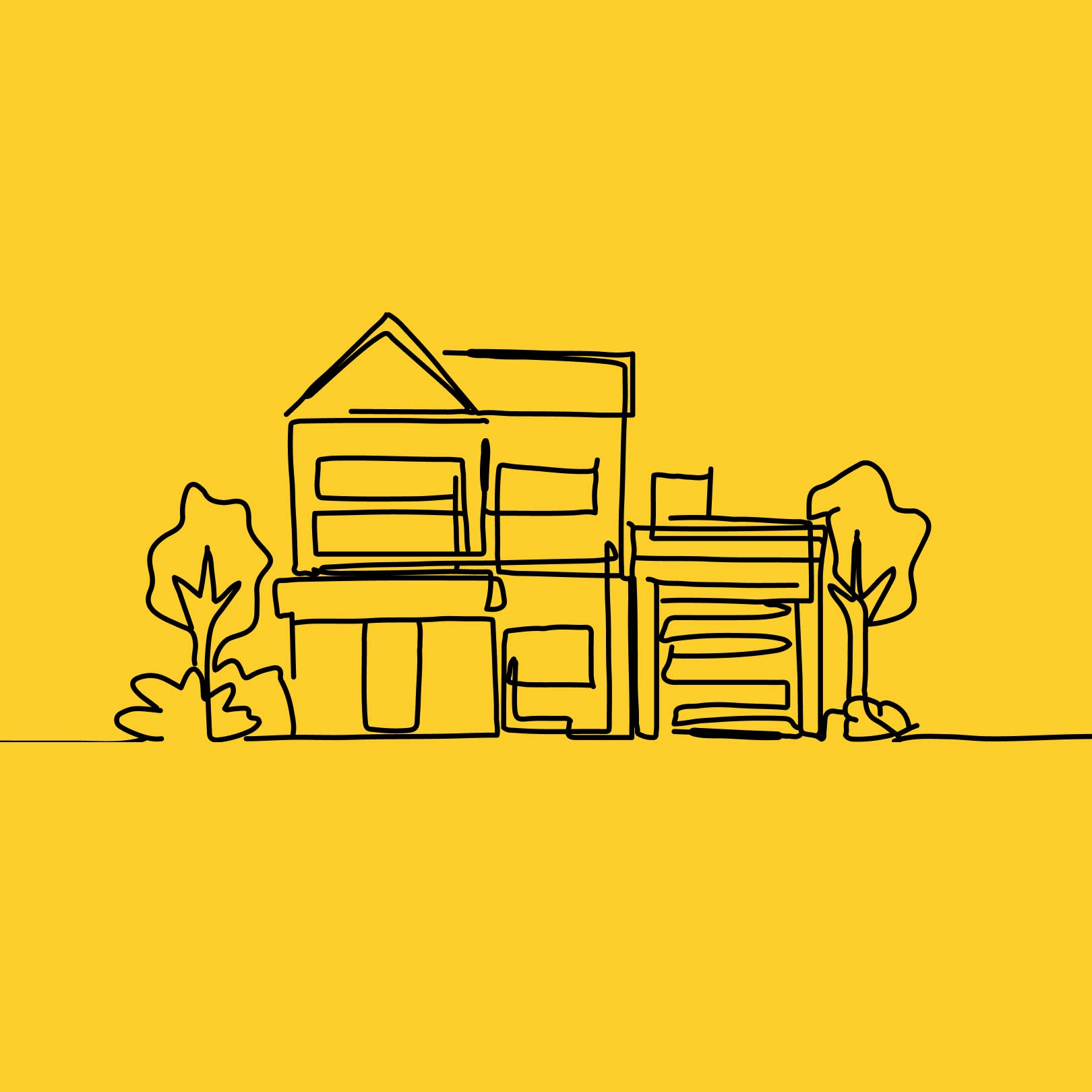 More Savings
The sun doesn't charge us to shine.
With a Torus Station, not only are you producing free power but your system's first priority is use and store free, renewable energy. With smart scheduling you can avoid costly time-of-use charges by setting your system to charge your batteries with solar or the cheapest grid power. Storing also saves more than net metering. Rather than send excess power to the grid at a discount, and buy it back at full rate when you need it, you can tap into your energy well for free power.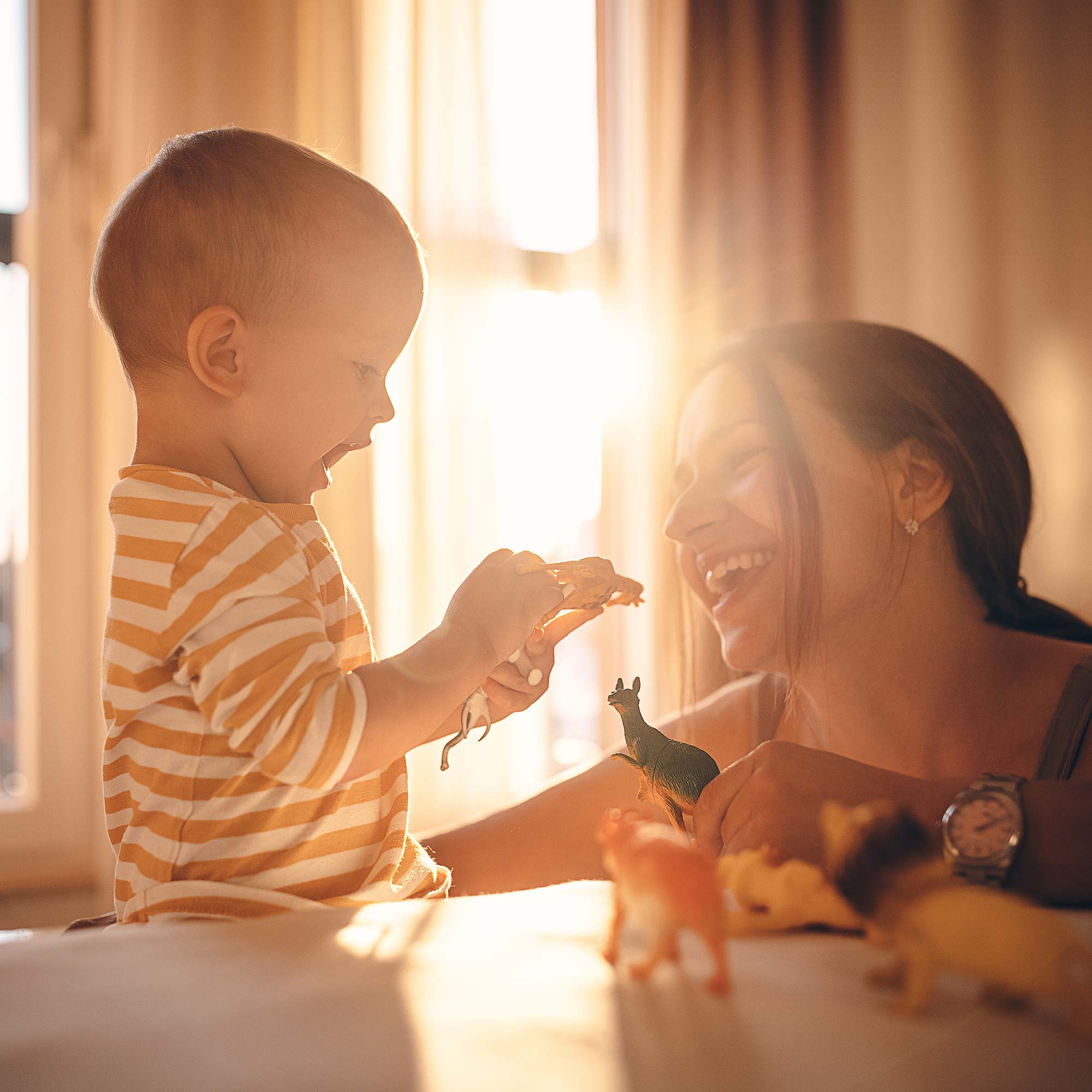 Why Energy Storage Matters
Installing renewable energy sources is a great first step. Combining your renewables with energy storage and management increases your impact and boosts your return on investment.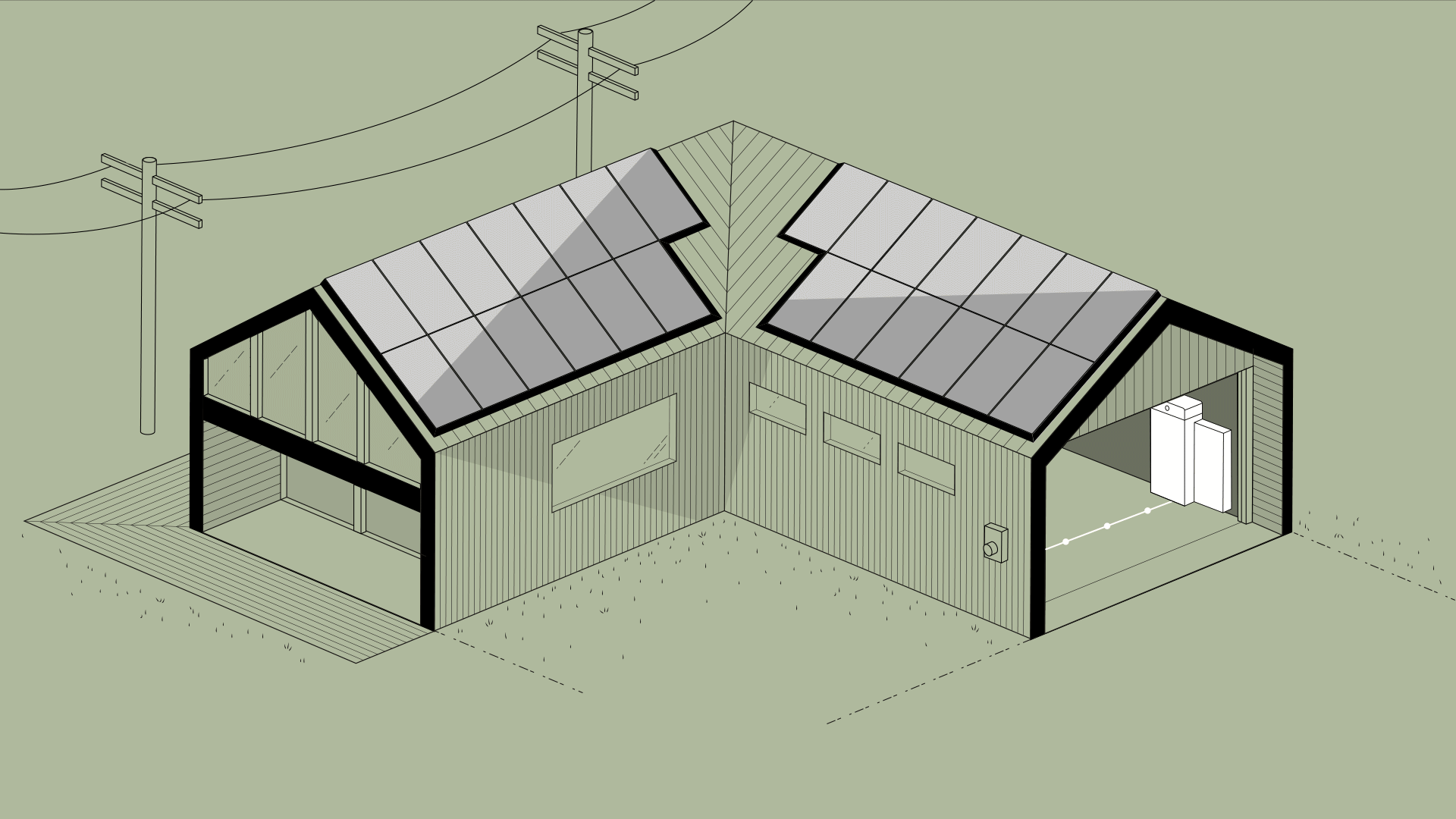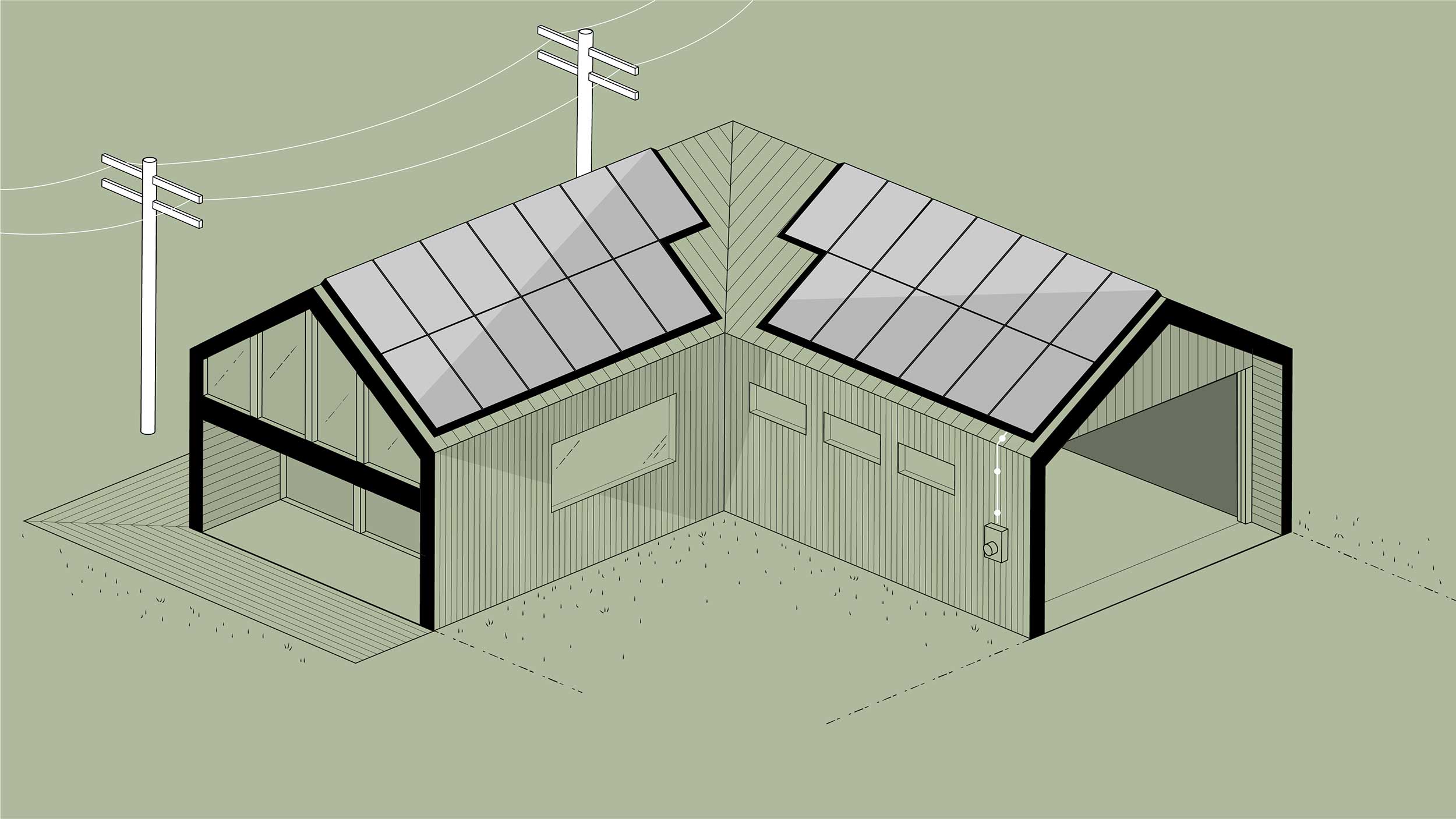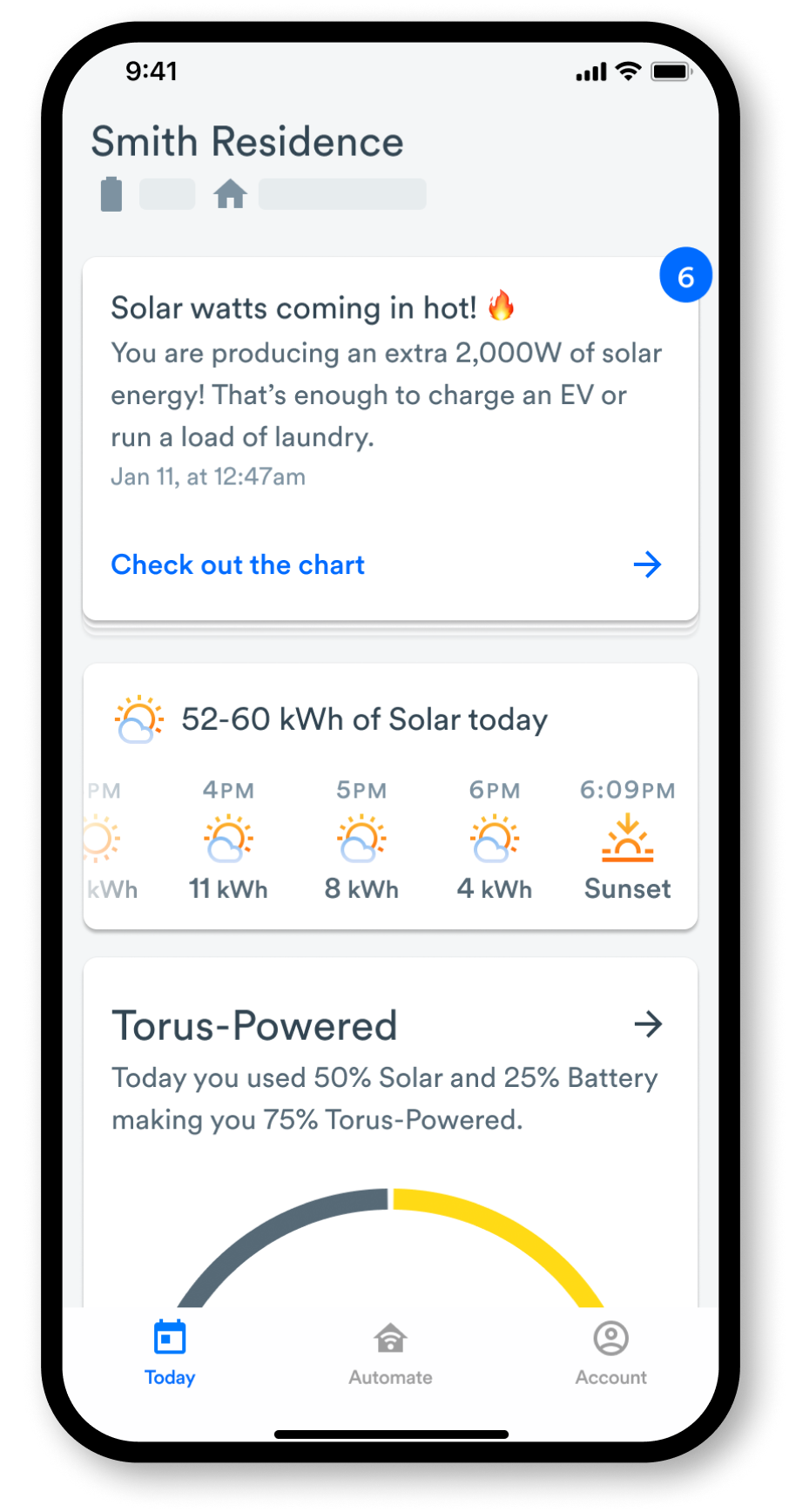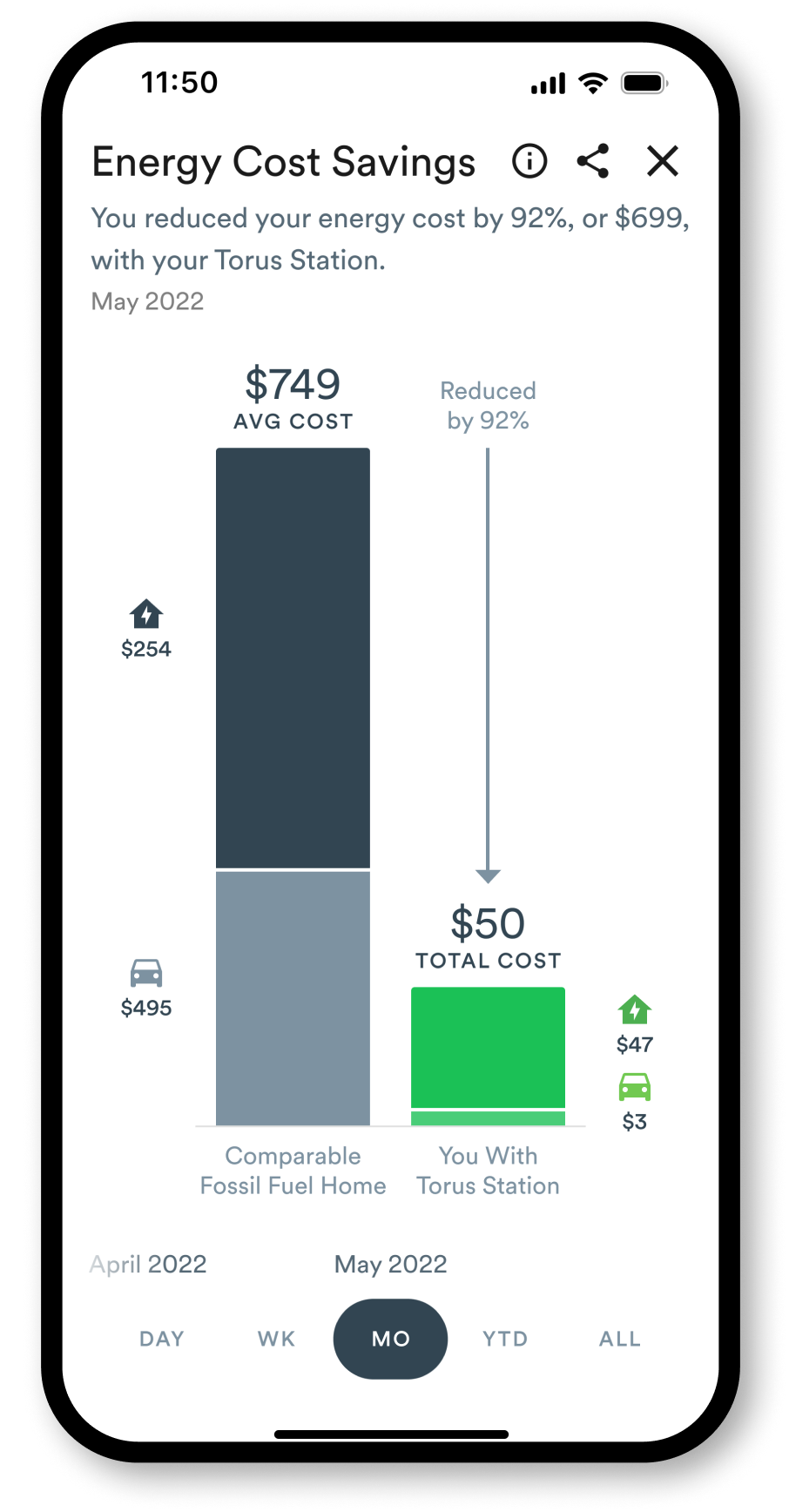 Energy forecasting
Torus automatically tailors your home's energy storage and usage based on rolling three-day weather and energy forecasts. You'll see how much green energy is available during any weather conditions and have the ability to easily adjust your use accordingly. Torus automatically updates its forecasts on an hourly basis, meaning your system is always prepared for what lies ahead.
Clean power. Clear results.
With the Torus App, you can track reductions to your power bill and carbon footprint in real time. Week-over-week, year-over-year, Torus presents a cleaner future you can see for yourself. Save money. Save energy. Save the planet.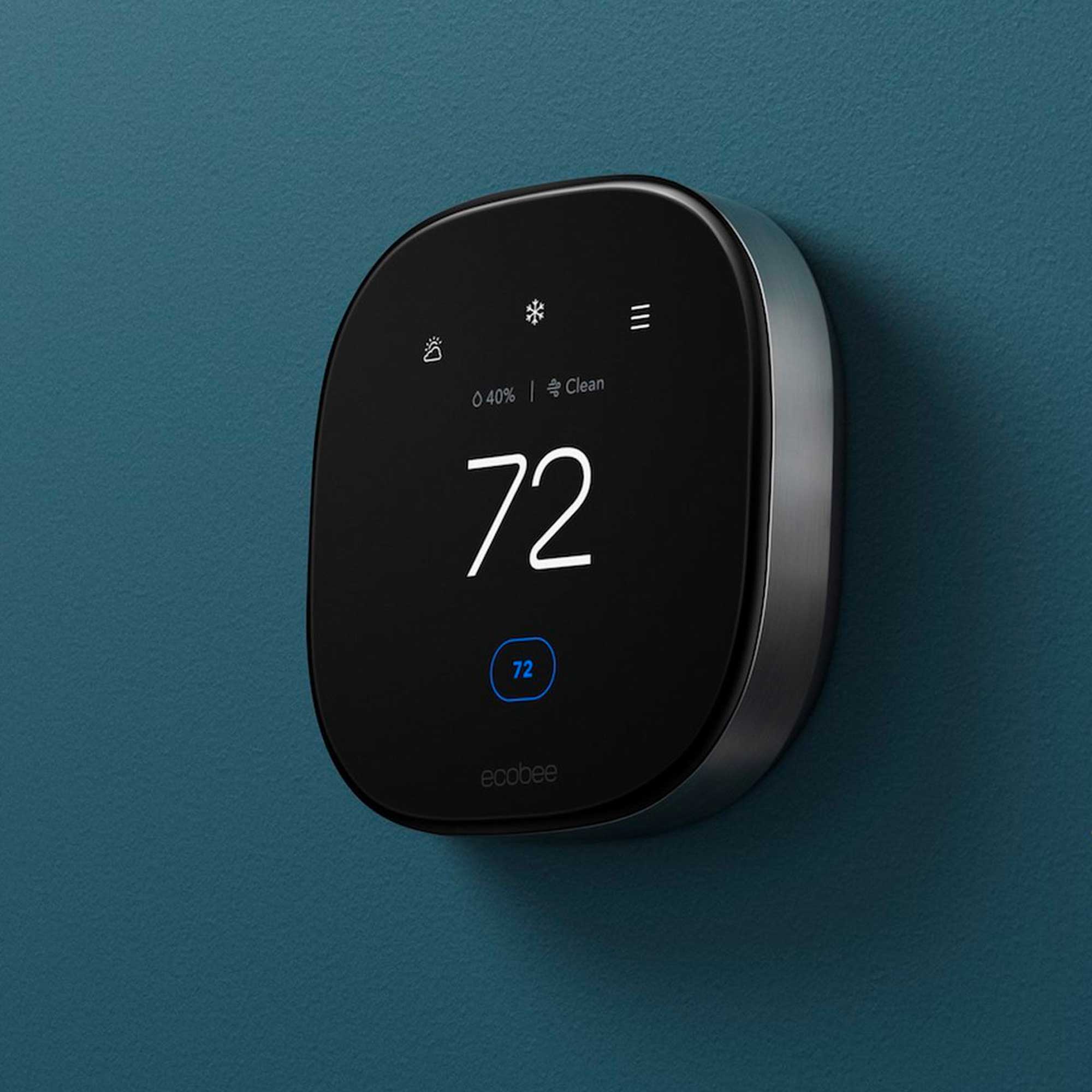 Benefits of Torus
Pre-Cooling
When it detects a surplus of renewable energy, your Torus Station can automatically cool your home by 1-2 degrees below the temperature on your smart thermostat. Proactively cooling your home with renewables reduces the need to use your HVAC system at night when clean energy is less abundant.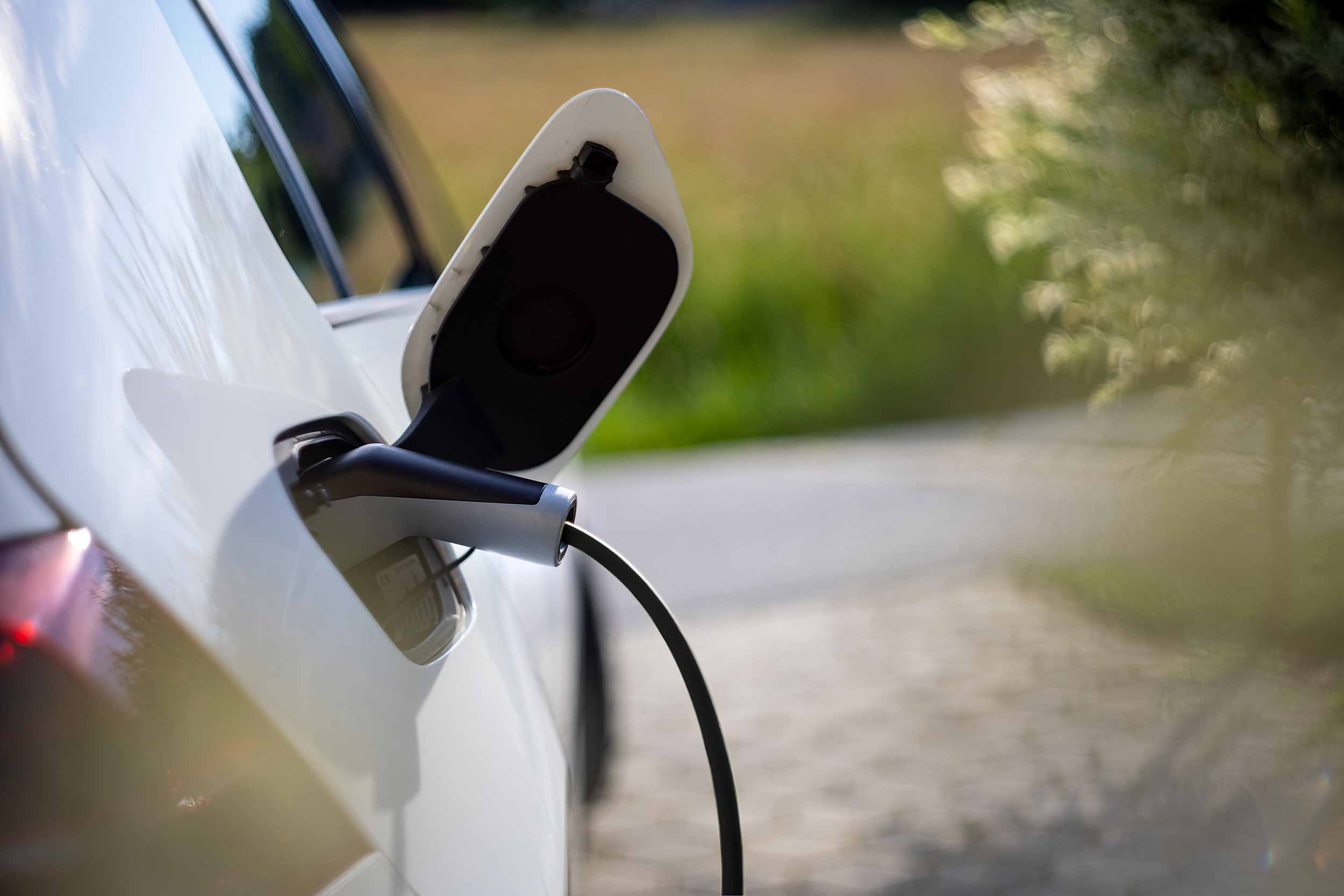 Benefits of Torus
Solar EV Charging
With solar charging, you can keep your EV running on 100% free and clean electricity. Through the Torus App, you can set your EV charger to only use energy generated from your solar panels, making it completely independent of the grid. And, thanks to the Torus App's predictive weather data, you're able to see in real-time how quickly your vehicle is charging and how much energy is available to you.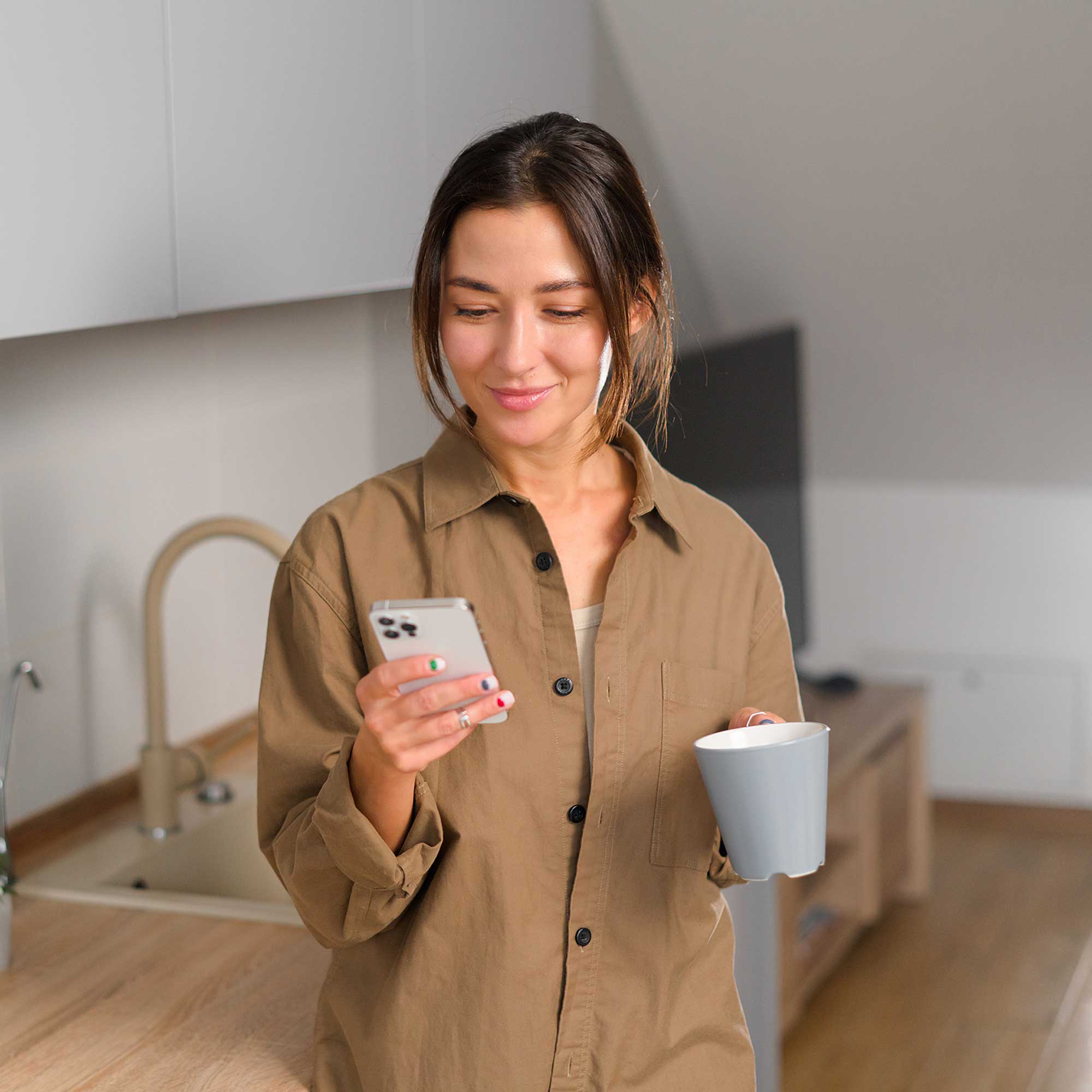 Benefits of Torus
Smart Prompts
Through Smart Prompts, the Torus App helps to boost the efficiency of your home's appliances. Smart Prompts notify you when you have an excess of renewable energy and inform you how many loads of laundry or dishwasher cycles you can run before you start pulling from the grid.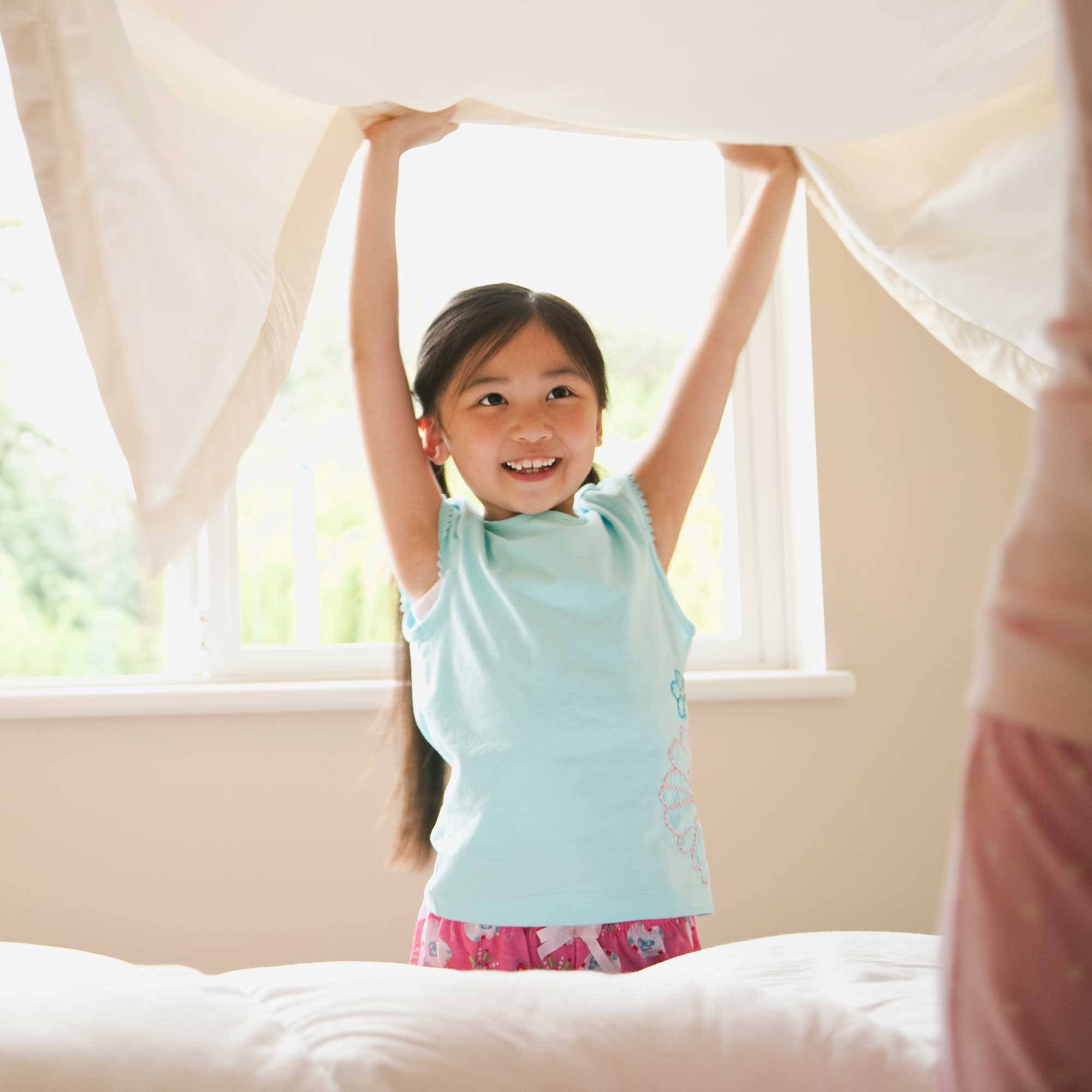 Benefits of Torus
Weekly Planning
The Torus App can carefully analyze your past energy usage to help you plan for the week ahead. Say, for instance, you work from home on Tuesdays but travel to the office on Wednesdays. Torus can anticipate that your vehicle will need to be charged before Wednesday's commute and prompt you with the ideal time to do so (while also accounting for Tuesday's mid-day load of laundry).
Start Your Journey
Renewable Energy Storage and Management
Why Torus?
Installing a Torus Station offers plenty of benefits. Here are a few of our favorites:
Save money on your electricity bills

Ensure energy security with backup power during outages

Reduce carbon emissions with renewables

Automate EV charging and HVAC systems with 100% renewables

Enjoy unrivaled system monitoring and support
Everything you need for energy production, storage and management.
Store Power
Torus Smart Battery
The Torus Smart Battery is an integral part of any Torus Station. A lithium iron phosphate (LFP) battery built for reliability, the smart battery stores and deploys electricity in a smooth and consistent manner, making it ideal for managing everyday energy use.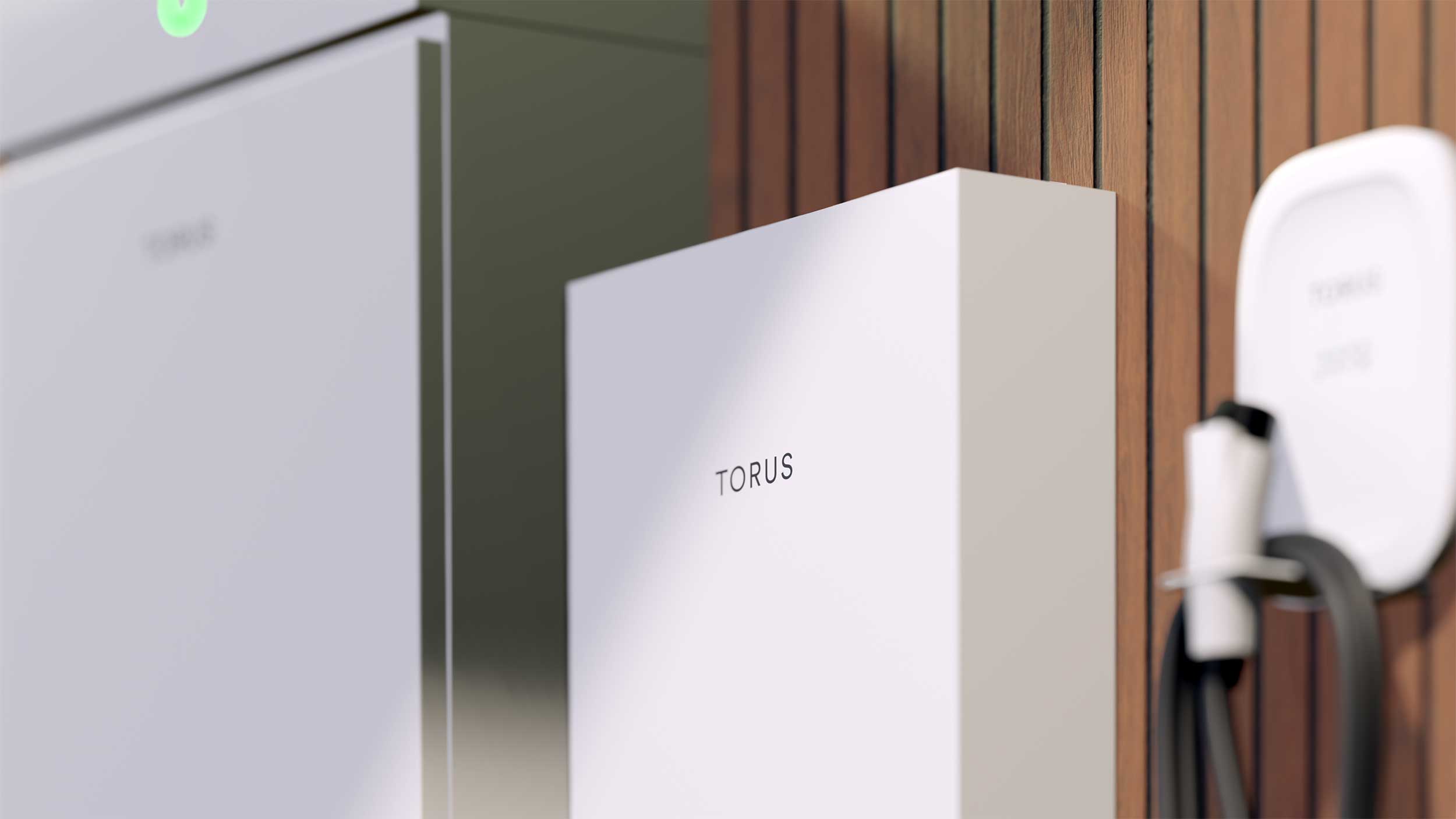 Manage Power
Torus Control™
Torus Control contains an inverter and an off-grid box, as well as the CNS–a computer we've built specifically for at-home energy management. By facilitating communication between the Torus App, your appliances, and the rest of your Torus Station, Torus Control manages up to 85% of your home's energy consumption.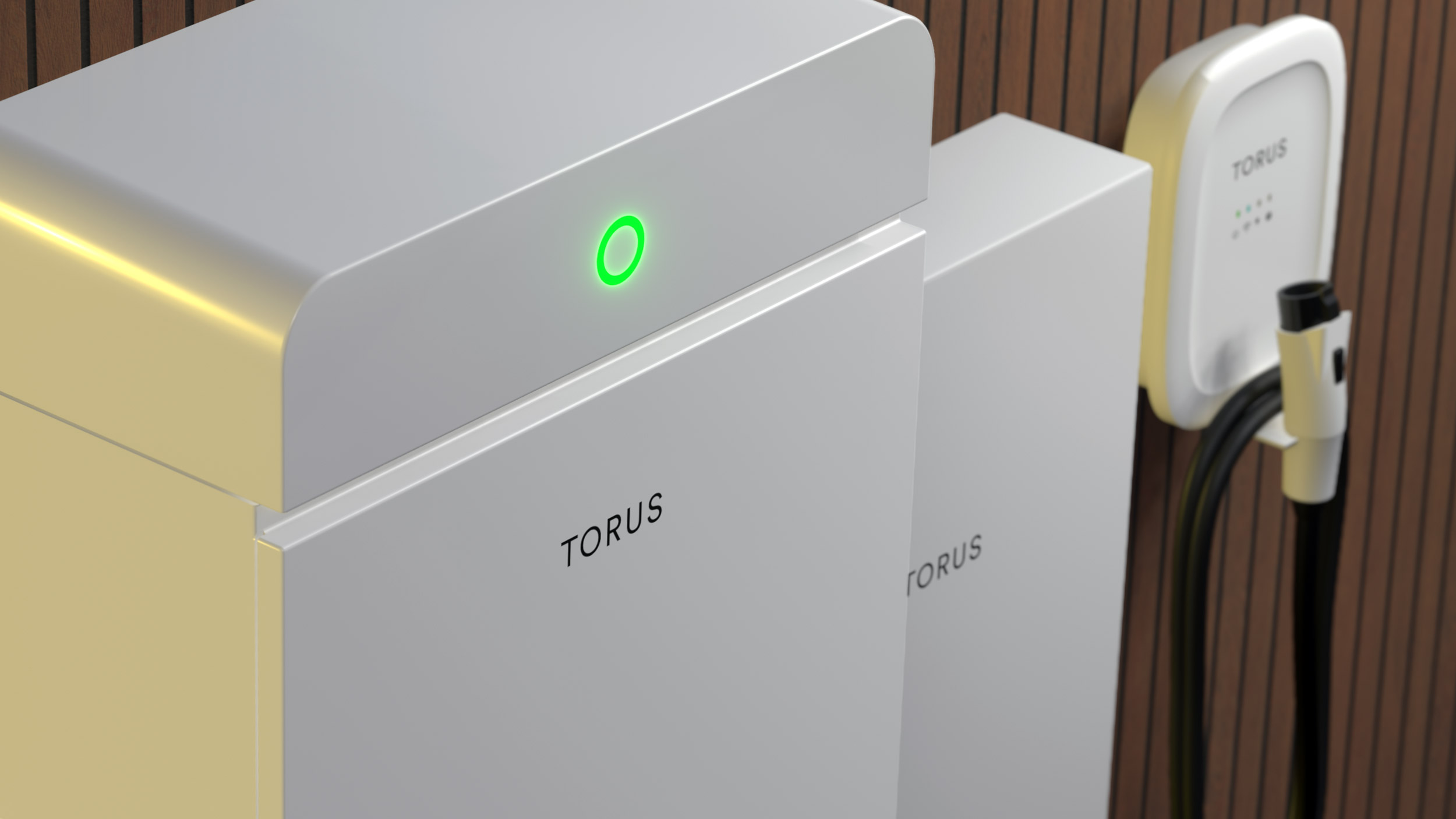 Torus Mobile Apps
The Torus App communicates with Torus Control, allowing you to monitor and adjust your energy usage. With it, you can tell your EV charger to only pull from renewable sources, track reductions to your CO2 emissions and electricity bill in real-time, and see how much energy you're currently producing and storing. A host of other automations and prompts make the Torus App a remarkable tool for anyone excited about cleaner, more dependable energy.
Explore the App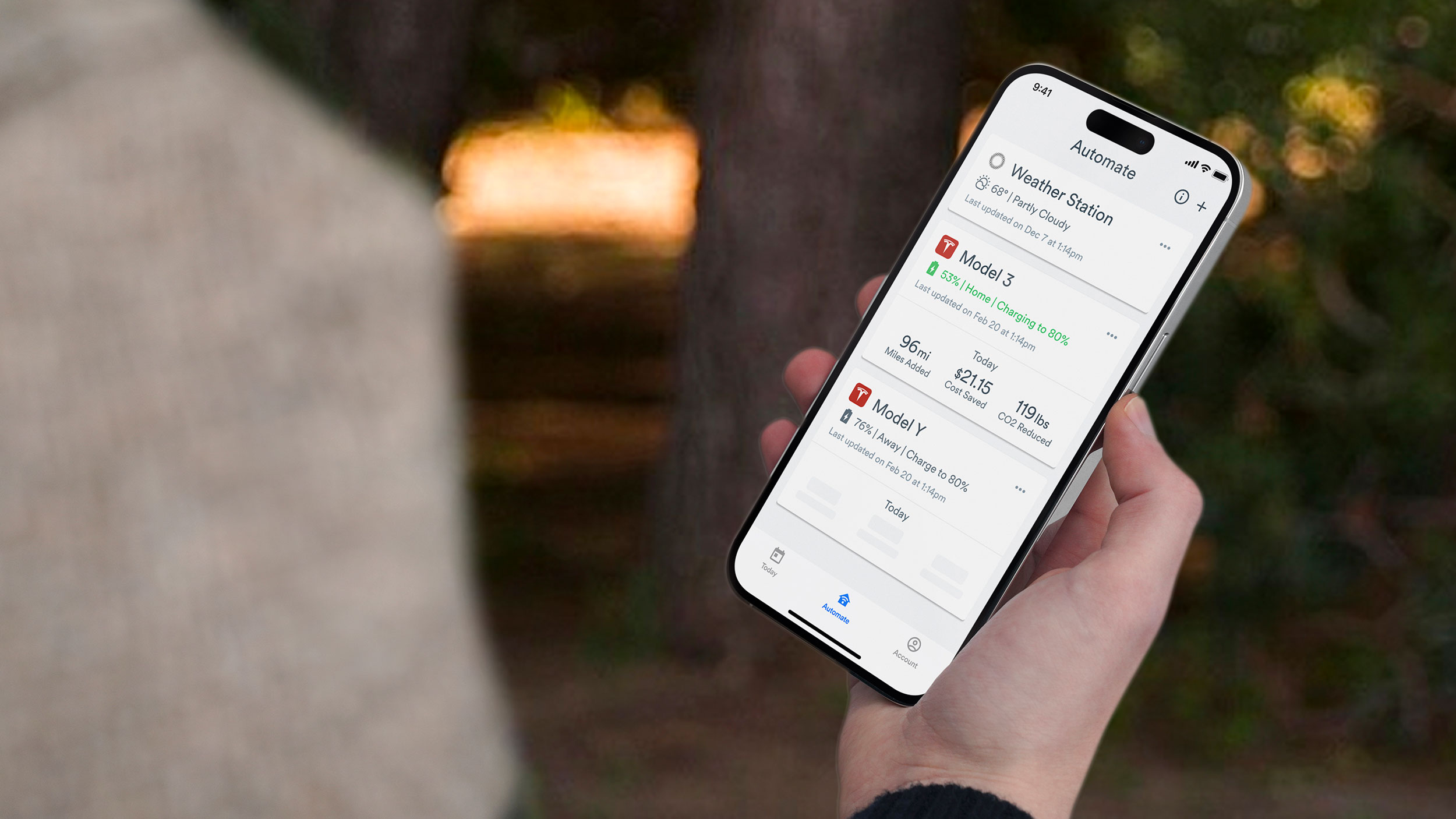 Create Power
Solar Power Generation
Generating renewable energy allows you to get the most out of your Torus Station. That's why we include solar panel installation as part of our services. If you already have solar, wind, or hydro power installed, not to worry. The Torus Station can integrate with almost any preexisting renewable energy sources.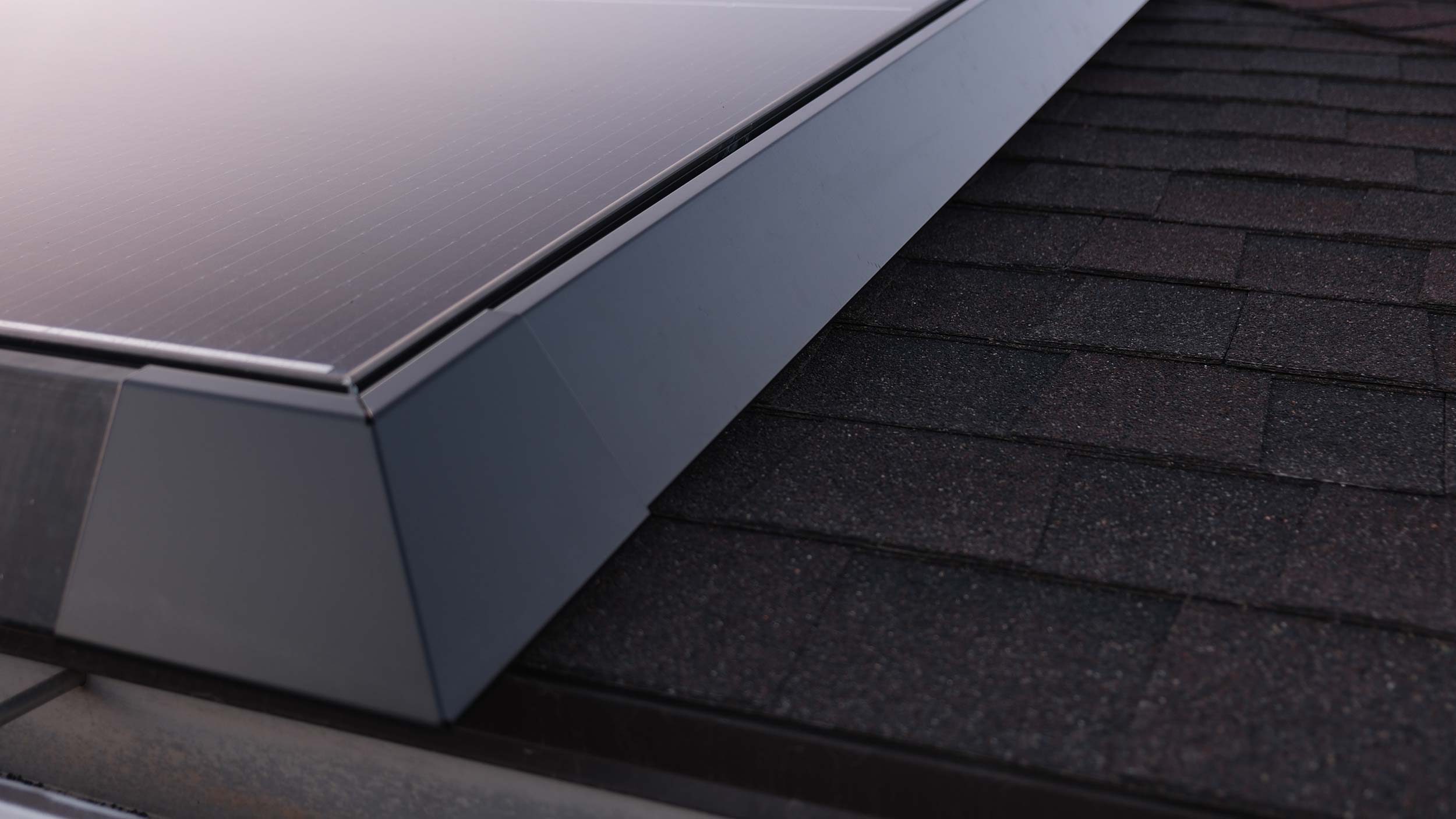 Charge with Renewable Energy
EV Charging
The Torus Charger is a Level II EV charger designed to seamlessly integrate with the Torus Station. With your Torus Charger, you'll unlock total control over how and when your EV is charging, meaning your next car ride is almost certain to be cheaper for you and better for the planet.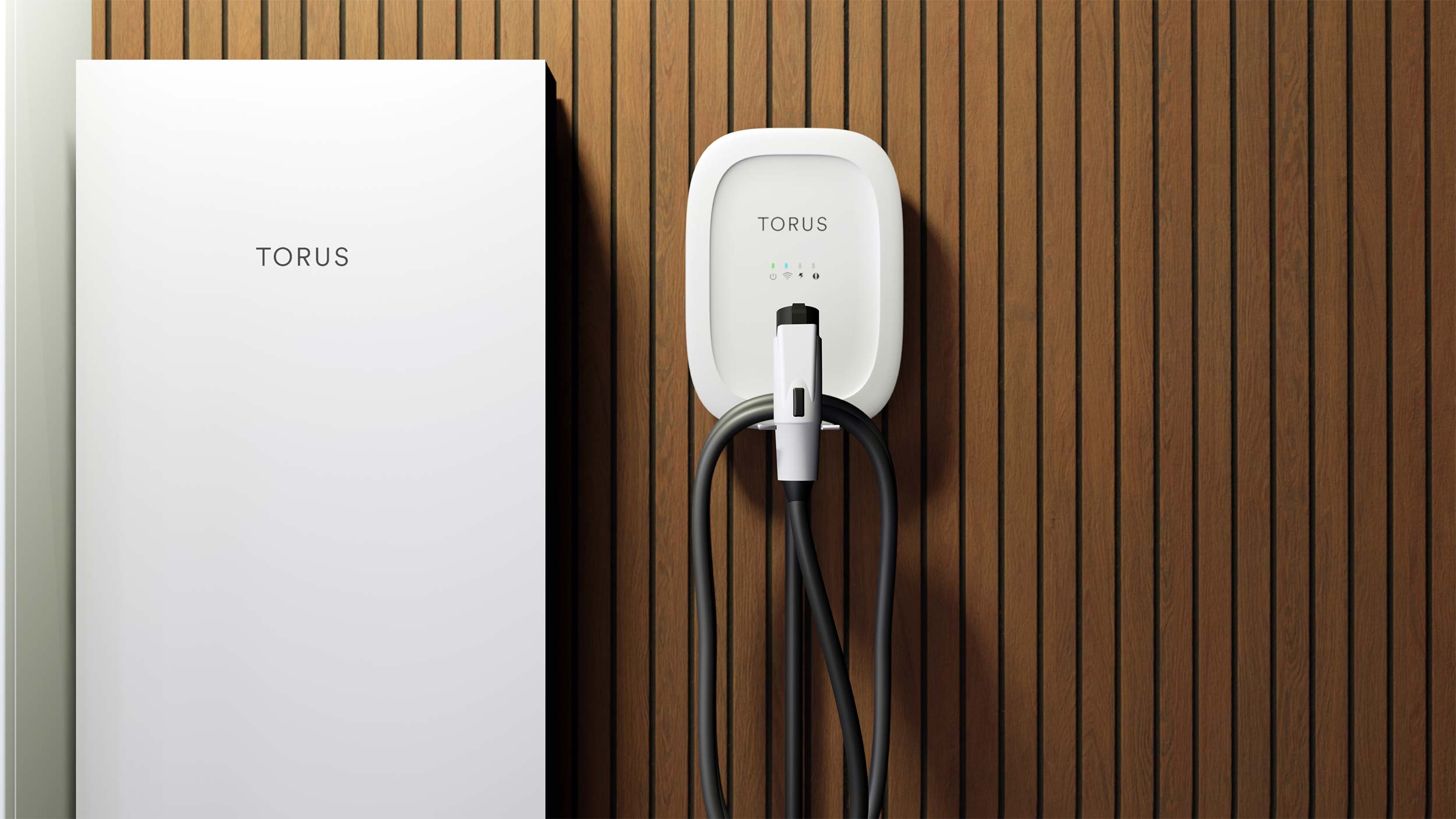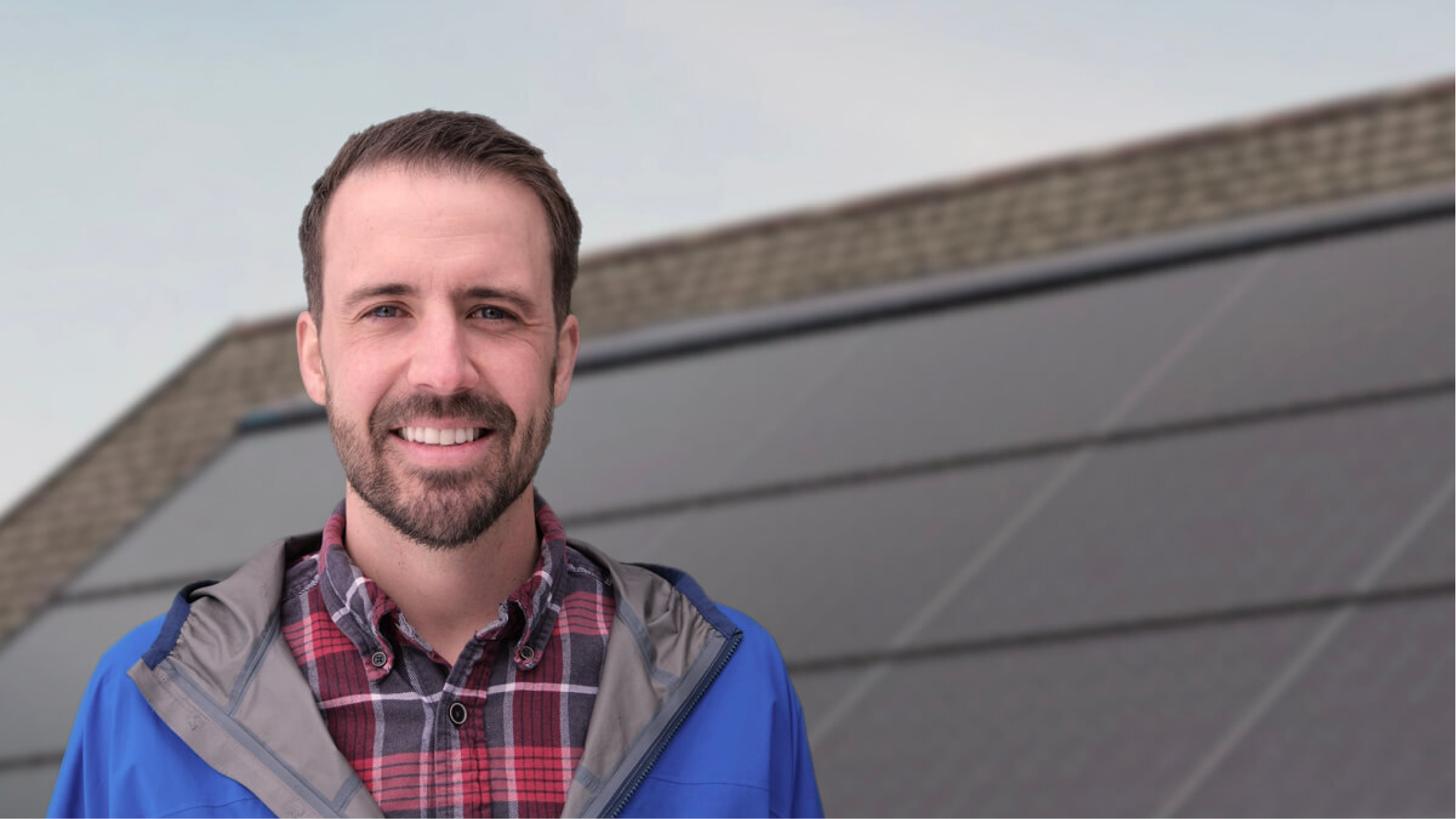 Next steps
Ordering & Installation